Media Partners
The Argentine Wind Energy Association was created in 1996 as a non-profit, non-governmental organization, led by Dr. Erico Spinadel, who is its current president. Since then, alongside his team, they have been striving every day to promote the development of wind energy both nationally and globally. Our work, besides advising the industry, is to represent the Argentine wind sector before the different administrations and entities, officials and Latin American and international associations.
---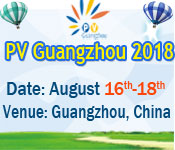 PVPV Guanghzou As the largest and most influential PV trade show in South China, PV Guangzhou 2019 is will be held from August 16-18 and cover an exhibition floor of 40,000sq.m, with 600 quality exhibitors. Have been held for 10 years, PV Guangzhou has welcome many exhibitors.
---

WOGNEWS, World Energy Oil Gas News Trends is a free, publicly available information portal about the global energy oil and gas market.
The portal contains information about events, trends, prices, markets, countries, regions, companies in the global energy oil and gas market, industry in text, video and photo formats since January 2014.
The portal contains information in two languages, Russian and English.
The portal has more than 25 thousand subscribers in the countries of the Americas, Western Europe, North and Central Africa, the Arabian Peninsula, Central Asia, Southeast Asia, Australia, Russia.
---